ENERGY SAFETY
IT'S WHAT WE DO
Our mission at ECEC is to provide energy and related services in a safe and reliable manner. From employee safety to member safety, we work hard to educate, train and promote a culture of safety in all that we do – it's part of the cooperative difference.
---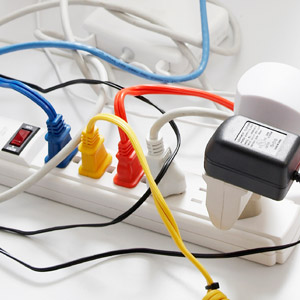 HOUSEHOLD SAFETY TIPS
Never use electric appliances close to water.
Walk through your home and search for potential electric hazards. Many hazards are easily identified and corrected.
Never put items into electric outlets that are not intended for them.
Make sure electric outlets aren't overloaded.
Check all electric and extension cords to make sure they aren't cracked, frayed, or covered by rugs or furniture.
Use the correct wattage light bulb for lighting fixtures.
Keep electric appliances away from damp or hot surfaces, and make sure they have appropriate air circulation.
Signs of potential hazards that should be examined by a qualified electrician include dim or flickering lights, arcs or sparks, sizzling or buzzing sounds from your electric systems, odors, switch plates hot to the touch, loose plugs and damaged insulation.
---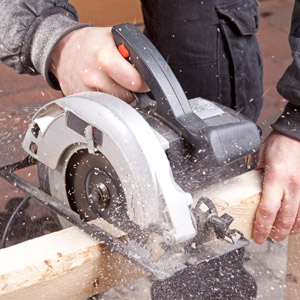 OUTDOOR SAFETY TIPS
Inspect power tools and electric lawn mowers before use for frayed power cords, broken housings or broken plugs.
When using tools or extension cords outdoors, make sure they are marked for outdoor use.
Unplug all portable power tools when not in use. Don't leave power tools unattended, even briefly.
Metal ladders conduct electricity. Be careful of overhead wires and power lines.
Stay away from utility electric equipment and substations.
If you see a downed power line, stay away from it, then call 911.
Contact ECEC if you know about a fallen or leaning power pole.
---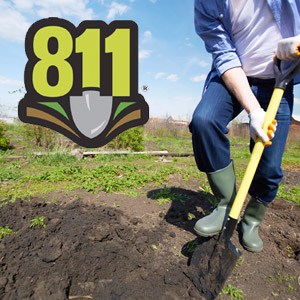 CALL BEFORE YOU DIG - ITS FREE
Diggers Hotline helps identify costly and dangerous utilities that can be buried just inches beneath your yard's surface. Call or click three working days before digging and have your lines marked so you can dig freely and safely.

Want more information?
DIGGERS HOTLINE
---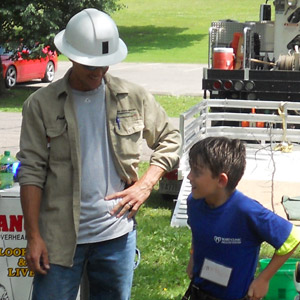 SAFETY DEMONSTRATIONS
It is critical to teach our youth the importance of electric safety. One way we do this is by providing free safety demonstrations. We work with area schools to help students understand the dangers associated with electric power lines and to learn proper safety precautions to be taken around power lines. Please contact ECEC if you're interested in scheduling a demonstration at your school or community event.
The demonstration is planned and controlled for the safety of the audience and our presenters.
Can be completed in 45 minutes or less and is structured to keep the attention and interest of all the students.
Tailored to kindergarten through high school age students
We can accommodate nearly any size group or location (gymnasium, auditorium or large classroom).
Demo unit can be plugged into any standard electric outlet (115 volts) that is protected by a 30-amp circuit breaker.
We highly encourage you to sign up your class. If one life can be saved, or a serious accident avoided, we will be rewarded for our efforts.
Because of travel costs, we would like to limit demonstration to schools and classes in or near our service area.
---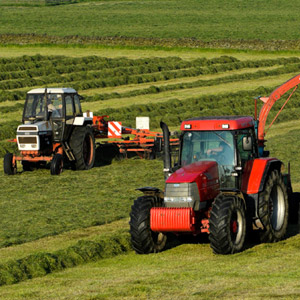 AGRICULTURE, LANDSCAPING, & GENERATORS
During the planting and harvest seasons, the days can get long and hectic. We've put together some reminders to keep you safe around the farm this season.
AGRICULTURE SAFETY AROUND ELECTRICITY
Putting in some new landscaping or trees this year? Or perhaps planning your garden? Read through some safety tips that we put together before you start digging in.
RESIDENTIAL PLANTING GUIDE
Portable electric generators provide a good source of power during electrical outages, but if improperly installed or operated, can become deadly.
VIEW MORE GENERATOR SAFETY TIPS
---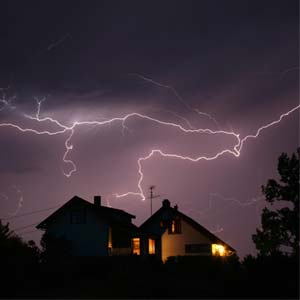 SEVERE WEATHER
Power outages can be caused by a number of things, such as trees falling onto power lines or by car accidents involving power poles. If a thunderstorm is coming, unplug electronic appliances, stay away from windows and off of porches, and avoid contact with plumbing and bathroom fixtures (they conduct electricity). In the case of freezing weather, have your heating system inspected once a year, turn off and unplug electric blanket and space heaters when not in use, and use electric products only for their intended purposes.

Want more information?
VIEW MORE SEVERE WEATHER SAFETY TIPS
---