ELECTRIC VEHICLES
HOME ELECTRIC VEHICLE CHARGING MADE SIMPLE
WHAT IS IT?
Transitioning to an Electric Vehicle can be a big decision. We want to help by offering programs that allow you to keep your EV charged and ready, while also helping to keep energy costs affordable. Our programs will help you get setup for EV charging!


HOW IT WORKS
Read over the details below of our EV programs.
Consult the FAQ or contact us with any questions you might have.
Members can chose to take advantage of one of the EV programs offered.
Sign up for the program that works for you!

SmartCharge is our new EV program, available in January 2022. SmartCharge will make home charging simple by providing both a Level II home charger and easy to understand billing for your electric vehicle. Read more about SmartCharge below.
Want to get started?
APPLY NOW
AVAILABLE PROGRAMS
Members with electric vehicles can choose to participate in one of our EV program options. These programs are evolving with some being phased out in 2022.
If you need more information please
contact us
. We'd be happy to talk through the details of each program and even provide an estimated savings analysis based on your current bill.
SMARTCHARGE
What Is It
A simple flat rate program that allows unlimited off-peak charging from 9:00pm-5:00am. Eau Claire Energy will provide the vehicle charger, installation, and lifetime maintenance on the charger.
Program Available
This program will be available starting in January 2022.
Program Details
For $35 a month Eau Claire Energy will provide a Level II vehicle charger ($1,100 value) and unlimited off-peak charging from 9:00pm-5:00am each day. On-peak energy rates will apply if you want to charge your vehicle outside of this time - you are in control! Additionally ECEC will provide warrenty and support for the vehicle charger as well as access to charging data via a mobile app.

Note: this program is based on 400kWh average per month. If a member utilizes more than 600kWh per month for three consecutive months, additional charges will apply.
FREE IN HOME CHARGER
What Is It
Members can receive a $500 rebate towards an in-home Level II charger when allowing ECEC to connect the charger to a load control device.
Program Available
Yes, currently available to members that own an electric vehicle. This program will be ending in 2022.
Program Details
The charger must be connected to a load control receiver and controlled from 2:00pm - 9:00pm Monday - Friday.
FREEV PILOT PROGRAM
What Is It
A special pilot rate for EV owners that doesn't involve any equipment installed in your home. When charging your EV during off-peak hours the electricity you use will be free (up to 400 kWh).
Program Available
No, this program was limited to 25 participants.
Program Details
Every month up to 400 kWh of electricity used from 10:00pm - 6:00am will be free on your energy bill. Energy used the rest of the day, or in excess of 400 kWh between 10pm-6am, will be charged the on-peak energy rate. See the rate details for more information.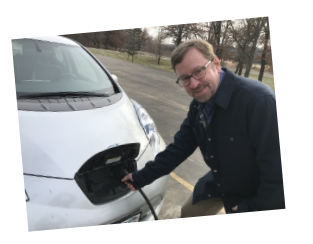 "We've recently added a Nissan LEAF to our family and it's been a good fit for us!"
-Jeff Frieburg
LOOKING FOR MORE INFORMATION?