WHAT IS IT?
Transitioning to an Electric Vehicle can be a big decision. We want to help by offering programs that allow you to keep your EV charged and ready, while also helping to keep energy costs affordable. Our Free In Home Charger and FreEV programs can help you get setup for EV charging or cut energy costs on your monthly bill.


HOW IT WORKS
Read over the details of the Free In Home Charger or FreEV Pilot programs.
Members can chose to take advantage of one of the two EV programs offered.
Sign up for the program that works for you!
TWO PROGRAMS TO CHOOSE FROM
Members with electric vehicles can choose to participate in one of two EV program options. Choose the one that works best for how you want to use your electric vehicle. If you need more information please
contact us
. We'd be happy to talk through the details of each program and even provide an estimated savings analysis based on your current bill.
Want to get started?
APPLY NOW
FREE IN HOME CHARGER
What Is It
Members can receive a $500 rebate towards an in-home Level II charger when allowing ECEC to connect the charger to a load control device.
Program Available
Yes, to members that own an electric vehicle.
Program Details
The charger must be connected to a load control receiver and controlled from 2:00pm - 9:00pm Monday - Friday.
FREEV PILOT PROGRAM
What Is It
A special pilot rate for EV owners that doesn't involve any equipment installed in your home. When charging your EV during off-peak hours the electricity you use will be free (up to 400 kWh).
Program Available
Yes, to members that own an electric vehicle and are not currently utilizing Distributed Generation, including Membersolar. This program is currently limited to the first 25 participants.
Program Details
Every month up to 400 kWh of electricity used from 10:00pm - 6:00am will be free on your energy bill. Energy used the rest of the day, or in excess of 400 kWh between 10pm-6am, will be charged the on-peak energy rate. See the rate details for more information.
Passenger automobile that is 100% electric and legally permitted to be utilized on a public road. Motorcycles, ATVs, golf carts, etc. will not qualify.
No. In order to qualify for the pilot program, the vehicle must be 100% electric. Hybrids as well as Plug-in Hybrids are not allowed.
The pilot program is limited to the first 25 members and will end on May 1, 2022.
Members with Distributed Generation including subcribers to MemberSolar are not allowed on "Time of Use" rates and would not be eligible for the pilot program
You can fill out an application online at any time or in our office during normal business hours.
Yes. You are not obligated to participate in the pilot program for any specific time period.
You should notify Eau Claire Energy Coop as soon as you sell your vehicle so we can adjust your rate accordingly.
No. If a member does not use 400 kWh between 10pm - 6am in a billing period, the remainder would not be carried to the next month. The maximum "free" kWh is 400 for any billing period.
No. The pilot program is only available for Rate "A" (residential, farm or small commercial) members.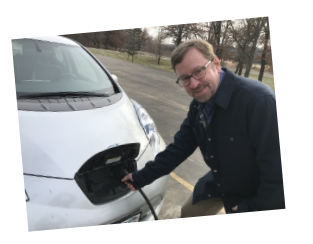 "We've recently added a Nissan LEAF to our family and it's been a good fit for us!"
-Jeff Frieburg
LOOKING FOR MORE INFORMATION?