THERE'S A TREASURE IN YOUR BACKYARD
DIG INTO IT WITH GEOTHERMAL
WHAT IS IT?
A geothermal system can help reduce your energy usage, save you money on bills, and provide a more even, consistent comfort in your home. Using the earth's free, renewable energy in your own backyard, a geothermal system can save you up to 70% on heating, cooling, and hot water costs.
HOW IT WORKS
Meet with a contractor to install a network of underground pipes in your yard
These pipes exchange heat with the earth instead of outdoor air
Air temperatures vary greatly, but the temperature underground is an average 55°–70°F year-round
USE THE EARTH TO HEAT AND COOL
SUMMER COOLING
As outdoor temperatures rise, a geothermal heat pump collects heat in your home and moves it to the cooler earth. Ordinary heat pumps and air conditioners dump the heat outside in the already stifled summer air. That makes cooling systems least efficient when you need them to be the most efficient.
WINTER HEATING
As outdoor temperatures fall, a geothermal heat pump draws from an underground reservoir of heat and moves it to your home. An ordinary heat pump collects heat from frigid winter air, making it very inefficient. Unlike a furnace, geothermal doesn't create heat through combustion. It simply moves it.
"Geothermal Systems are the most energy-efficient, environmentally clean, and cost-effective space conditioning systems available."
source / U.S. Environmental Protection Agency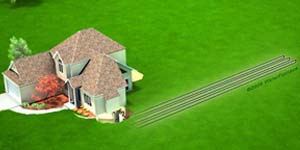 HORIZONTAL LOOP
Depending on geothermal system needs and space available, pipes are placed in trenches that range in length from 100 to 400 feet.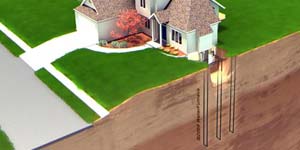 VERTICAL LOOP
The ideal choice when land surface is limited. Well drilling equipment is used to bore small-diameter holes from 100 to 400 feet deep.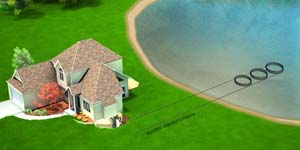 POND LOOP
Very economical when a large body of water is available. Coils of pipe are placed on the bottom of the pond or lake to capture geothermal energy.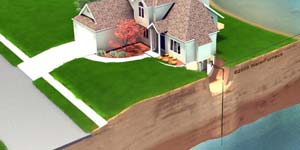 OPEN LOOP
An open loop is used where there is an abundant supply of quality well water. These use groundwater from a well as a direct energy source.
HOW DOES GEOTHERMAL HEATING & COOLING WORK?
Receive a 30% tax credit
A 30% federal tax credit for residential ground source heat pump installations has been extended through December 31, 2032. The incentive will be lowered to 26% for systems that are installed in 2033 and 22% in 2034 The energy tax credit can be combined with solar credits as well as energy efficiency upgrade credits.
LEARN MORE
LOOKING FOR MORE INFORMATION?